If Shelia was trying to insert herself into the investigation, Rachel tried to get as far away from it as possible, and from everything related to Skylar. While Shelia was deceitfully crying with the Neeses and pretending to be helping, Rachel never even visited Skylar's parents. All the harassment from the authorities and other students started taking a toll on Rachel's mental health, and when she started to show signs of falling apart, for example, by sobbing in front of Shelia, Shelia had no other response but to view her weakness with contempt. Maybe such arrogance prevented Shelia from seeing that her master plan was falling apart with Rachel's deteriorating mental health.
Having established with cell-phone records and security camera footage that the girls had been near Blacksville that night, and that Skylar had been texting with the girls when she was supposed to be, according to the girls' initial story, joyriding with them, the authorities probably helped push Rachel into changing her story. Now she claimed Skylar had ran off into the woods near Brave, and that she and Shelia had been unable to find her. Shelia changed her story to match Rachel's only after she learned Rachel had changed hers. Polygraphs for the girls were then arranged for mid-December. Shelia took hers at the State Police detachment: She failed. Rachel was supposed to meet up with her attorney on Spruce Street before the polygraph, but while on her way there, she jumped out of her father's car and ran away - all the way up to Tara's office. (Jessica Colebank had been taken off the case when she called Tara a "tool" for appearing to stonewall the investigation.)
On December 16, with Christmas approaching and Skylar not any closer to coming home, Mary posted a long and detailed message to her Facebook account. The post detailed the various steps that had been taken so far by the law enforcement and the community in order to find Skylar. Mary also implicitly called Shelia and Rachel out for lying and even bluntly mentioned the possibility that Skylar might have been murdered. After all, if Skylar had been a victim of an accident, why not come forward when both girls had been offered full immunity?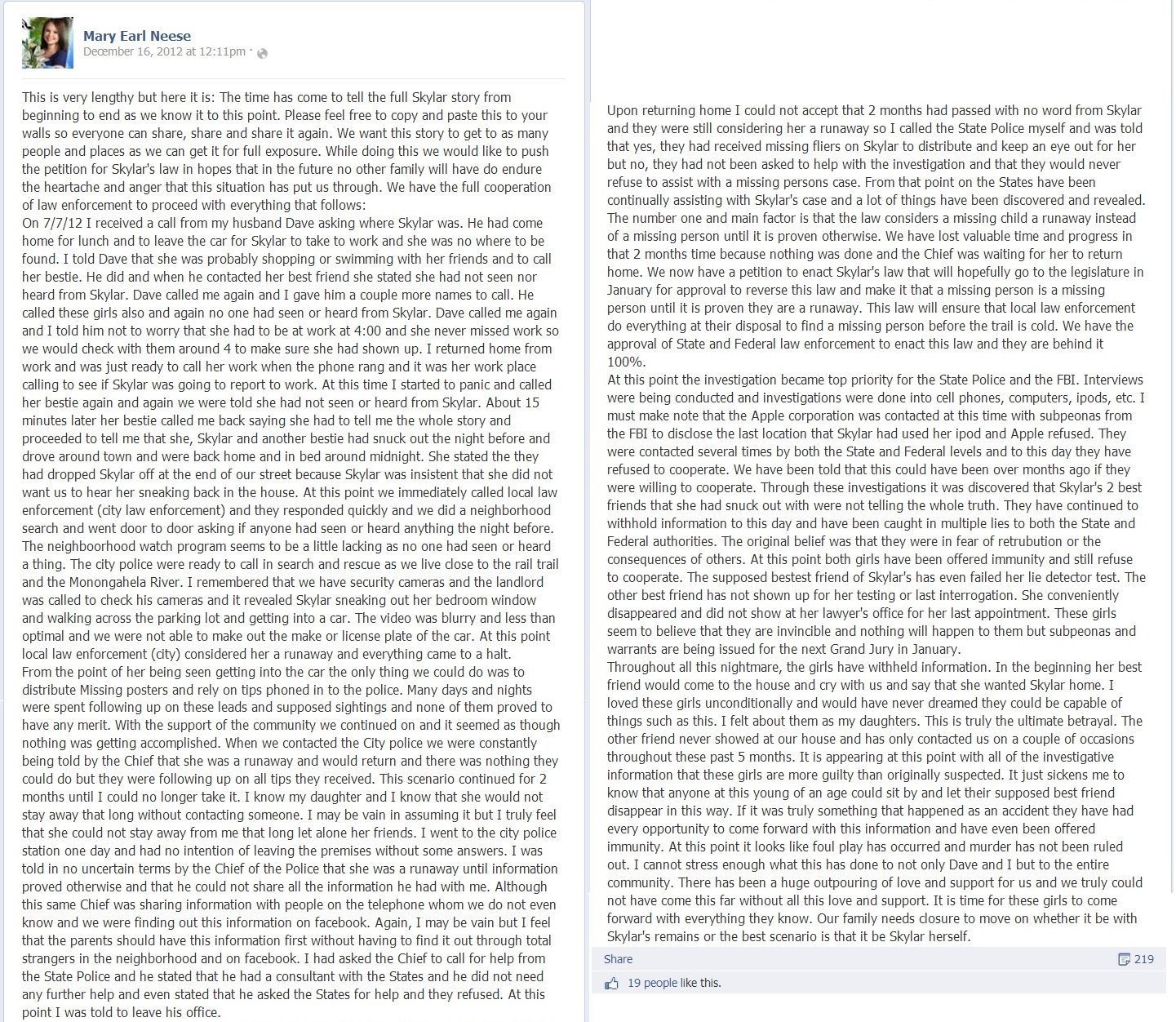 To better exert control over Rachel's increasingly erratic and aggressive behavior, and to keep her away from Shelia and Tara, Patricia and Rusty had decided to have Rusty move in with them. Rusty's place in South Park had been a sanctuary for Rachel who often fought, sometimes violently, with her strict and temperamental mother. Moreover, living with Rusty had allowed her to see Shelia more often. Rachel was unaware of her parents' plan when she and her mother were coming home on December 28 from a Christmas holiday in Virginia. The jig was up as soon as they got to their driveway. Rachel started running around the neighborhood screaming "You're ruining my life!" As the confrontation moved inside from the driveway, it escalated into a physical altercation between Rachel and Patricia. Eventually Rachel barricaded herself into her room and threatened to kill herself. The police soon arrived and Rachel was taken to Chestnut Ridge, a psychiatric hospital in Morgantown. While there, Shelia grew nervous of the implications of her friend's breakdown: Unbeknownst to Rachel's parents, Rachel had broadcasted everything live to Shelia via FaceTime. Shelia tried twice to get to see her, but the staff had been instructed to allow only family members to visit.
----
Rachel was released from Chestnut five days later, on January 3. Her parents immediately drove her to her attorney's office in downtown Morgantown where an interview had been arranged with Corporal Gaskins and a federal polygraph examiner. The interview had originally been arranged for the 29th but Rachel's breakdown had postponed the date. The investigators had wanted to have the interview as soon as Rachel got out, to prevent Shelia from getting to her first. Being aware of Rachel's visit to Chestnut, the investigators were hopeful that the truth would finally come out. And it did: Only a few questions into the interview, Rachel uttered the words "We stabbed her". Having expected something along the lines of "she overdosed", the truth shocked everyone in the room. Rachel told them what had happened, that they had picked Skylar up after midnight, driven her to a remote backroad near Brave, stabbed her to death and buried her body. When asked why they did it, she could only come up with "We just didn't like her anymore."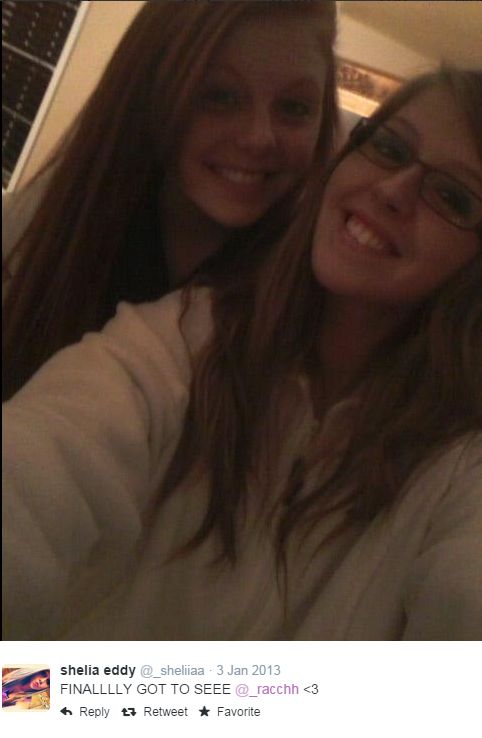 It was agreed that Rachel would take them to the body immediately. The investigators, Rachel herself and her attorney John Angotti drove in two cars, crossing the state line into Pennsylvania. When they arrived at the location where Rachel said they had killed Skylar, it was so snowy that Rachel couldn't pinpoint the exact spot where they had buried her: The investigators would have to wait for the snow to melt. The investigators now knew what had happened to Skylar, but with her body still buried in the snow, they had no evidence beyond Rachel's words. Knowing Shelia would be anxious to meet her buddy, they put Rachel's room under electronic surveillance and had her set up a meeting with Shelia. Unfortunately Rachel wasn't able to extract anything incriminating out of Shelia on that occasion. Shelia posted on her Twitter account a picture of the two which was rather revealing of Rachel's condition.
Two weeks later, on January 16, the investigators returned to the spot, this time with a K-9 (from the word canine) unit. The snow had mostly melted. While the dog's handler was picking up a GPS tracker that had fallen off the dog, he noticed skeletal remains under a pile of branches: Six months after she disappeared, Skylar had finally been found.
----
During the following months, Rachel was allowed to roam free while the investigators were gathering evidence not only against her but particularly against Shelia, who had not and would never admit to the crime unless cornered. Shelia must have received a warning from her attorney, or someone else, for she and Rachel were barely in touch following their January 3 meeting. (She Tweeted the morning after that meeting "first time ive ever been completely speechless", followed by "holy fuck.") On the very next day, on January 4, the investigators surprised Shelia and her family by serving a search warrant to seize every knife in the house and Shelia's car. Forensic investigators going in and out of a remote backroad near the Eddy family land in Pennsylvania could not be kept hidden from Shelia for long - or the public for that matter. A few local newspapers mentioned that a body had been found in Wayne Township, Greene County. While nothing specific about the body was mentioned, Shelia would now have known that Skylar's body had been found and that Rachel, in all likelihood, had led them to her. JosieSnyder, one of the anonymous harassment accounts on Twitter, tweeted on the morning Skylar was found: "SKY is so gloomy today:("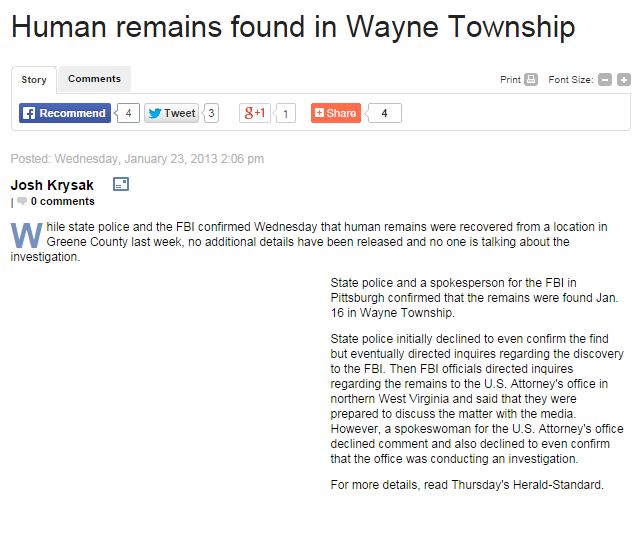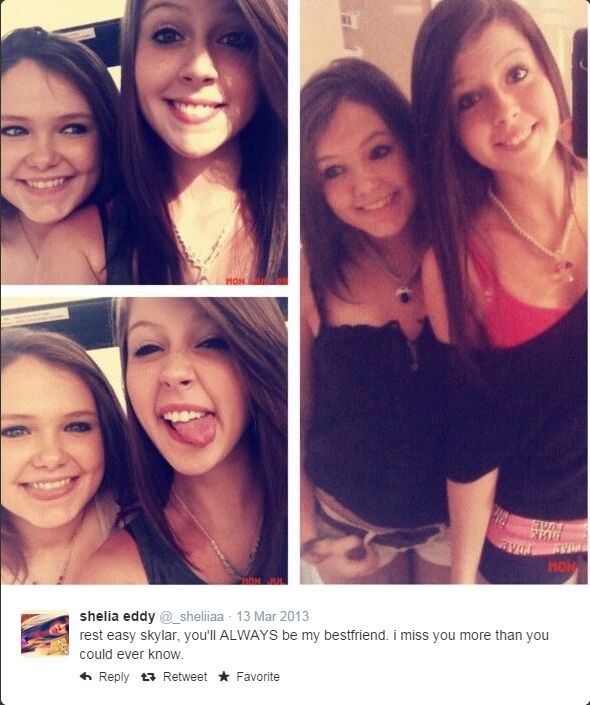 Both girls had also been homeschooled for the remainder of the school year, not just to protect other students from them but also to protect them from other students. Both maintained an appearance of normalcy, with Shelia stuck watching reruns of Law & Order: Special Victims Unit and tweeting about being bored, and Rachel getting back with her boyfriend, Mikinzy Boggs. While she may have been trying to convince herself that "past is past" and that she's on a "new path" now, even denial couldn't keep Rachel's demons at bay: On February 10, several hours after she had tweeted "happy birthday Skylar", she posted another tweet: "i hate the shit i think about at night."
On March 13, after the identity of the body had been scientifically verified by the FBI, Skylar Neese's death was made public. Still, nothing about the circumstances of her death was revealed. Dave and Mary had already been told a month earlier (without details about what had happened) and they had told a select few. On the day of the announcement, Shelia bothered to tweet "rest easy skylar, you'll ALWAYS be my bestfriend", and then quickly returned to business as usual. Rachel posted several tweets, including "rest in peace baby, i love and miss you more than anything. may you finally have justice"1.
---
1The text originally read that Rachel had said nothing on that day but according to tweets recovered by Topix user "ADI ABX" she was posting on March 13 as usual.