On May 1, as had been agreed, Rachel surrendered herself to the authorities and had her first day in court. She was transferred from juvenile to adult status (as per West Virginia law) and then pled guilty to the murder of Skylar Neese. She agreed to testify against Shelia in any trial. In exchange the prosecution, representing the state of West Virginia, agreed to recommend twenty years for second-degree murder (which may yield anything from 20 years to 40 years), and Pennsylvania agreed not to prosecute her. After the plea hearing, she was taken to the Northern Regional Juvenile Detention Center in Wheeling.
While this was going on, Shelia was at Cracker Barrel diner with her mother. Anticipating that news of Rachel's incarceration would soon be out, state trooper Gaskins and special agent Spurlock drove to arrest Shelia at her home on Clear Spring Drive. However, no one was there, so Gaskins called Tara to say that Shelia needed to be questioned, again. Tara mentioned that they were eating at Cracker Barrel, and that she'd bring Shelia in for questioning later. (It is not known what Tara knew, but some have claimed she was aware of her daughter's impending arrest, and had taken her away from their apartment so as to avoid being humiliated in front of their neighbors.) The investigators then sent the nearest patrol to prevent them from leaving. The patrol intercepted the Eddys in the Cracker Barrel parking lot as they were leaving the diner, and once Gaskins and Spurlock arrived on the scene, Gaskins arrested Shelia for murder. She was then taken to Lorrie Yeager Jr. Juvenile Center in Parkersburg.
Soon after Shelia's arrest, news media across the nation started reporting that Rachel Shoaf and an unnamed juvenile had been arrested for the murder of Skylar Neese. News quickly spread across Morgantown and University High, where students who had once considered themselves Rachel's friends and had defended her from intensifying accusations were shocked when the truth finally hit them. If they hadn't believed it before, Rachel's signature on a guilty plea (released to the public) removed all doubt. While officials could not name Shelia as the second suspect, nothing prevented the public from conducting their own investigations. NewsBall was the first website to name the juvenile as Shelia Eddy. (On internet forums her name was well known already.) Nearly a year after Skylar disappeared, those responsible were behind bars. A conclusion would still have to wait, however, for these arrests were followed by four months of silence.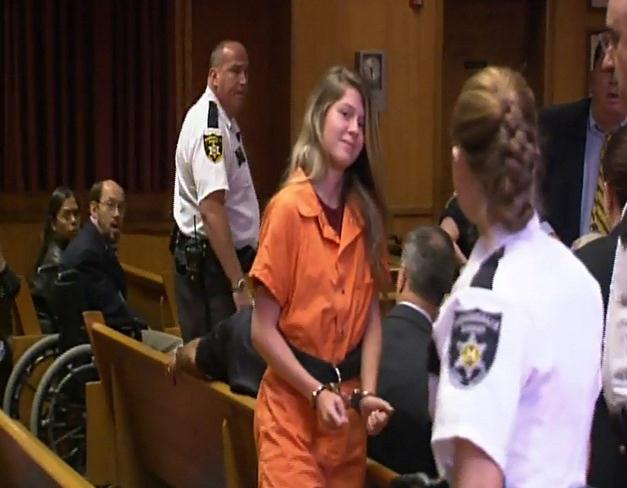 Finally, on September 4, Shelia Eddy was transferred to adult status. This meant the authorities could now publicize her name. Her arraignment was held on September 17, where she pled "not guilty" to the charges of murder, kidnapping and conspiracy, and the judge set the trial date for October 22. Her behavior attracted attention: Dave, who was in the courtroom that day, thought Shelia was smiling. Whether she was smiling to mock or to signal that everything's okay is unknown, but it's clear her attorney had failed to teach her proper courtroom behavior. Or maybe he had, but Shelia, as a 17-year old girl, was overwhelmed by the situation and did not know how to react. When she reappeared in court at her pretrial motions hearing a month later on October 15, she was clearly more subdued. Her attorney Michael Benninger made several motions including motions to have the trial venue moved out of Monongalia County, to have Rachel Shoaf's testimony suppressed (based on her alleged mental-health issues), to set a bail and to have the trial moved to a later date. Judge Russell Clawges denied most of these motions but agreed to move the trial date to February 2014 (later rescheduled to January 28), with another pretrial hearing to be held before that.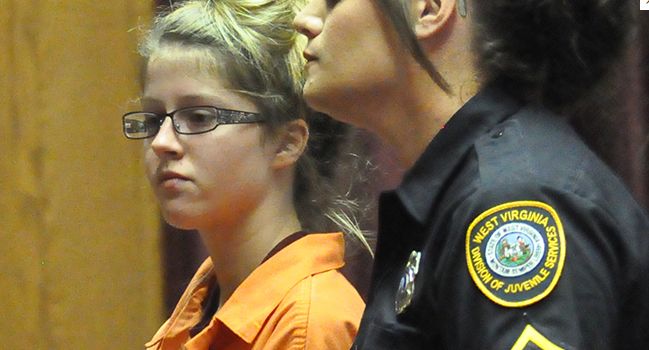 As the hour of Shelia's pretrial hearing on January 24 was nearing, rumors began to circulate on the internet that Shelia Eddy was going to throw in the towel and plead guilty. The hearing was broadcast live on the internet. As soon as she entered the courtroom, the rumors were confirmed: In stark contrast to her previous court appearances, Shelia started sobbing as soon as she sat down, before the trial had even begun. Often, she'd cling on to her attorney for support. If she hadn't realized it before, now she knew she was at the end of her line. Benninger explained to the court that after having thoroughly examined all the evidence, he couldn't come up with a
reasonable
defense with which to challenge the "force" of Rachel Shoaf's expected testimony. Notably but typically, Shelia didn't apologize; she merely relayed through Benninger that the Eddy family "recognizes" the Neeses' sorrow. (More about her courtroom behavior and apparent lack of empathy and remorse
here
.) She made no statements and most of her answers were either "Yes sir" or "No sir". The only time she spoke more than two words was when the judge asked her about her level of education. She did the absolutely minimum. In exchange for her guilty plea, the prosecution (Marcia Ashdown) agreed to a sentence of fifteen years to life
1
and Pennsylvania agreed not to prosecute her
2
. After the trial, Dave Neese swore that he'd be at every parole hearing to make sure Shelia never walks free.
Rachel's sentencing hearing began on February 2. Unlike Shelia, who had put some effort into her looks, Rachel looked as if she had walked through Hell, appearing pale and bloated. She apologized, personally, to the Neeses, and cried when details of Skylar's final moments were described by the prosecution and when Skylar's aunt and uncle testified. She didn't appear to cry for herself and accepted the sentence (30 years for second degree murder; the judge made a compromise between the prosecution's recommendation and the Neeses' wish) with a stoic expression on her face, even if her denied request that she be sentenced as a juvenile implied that she hadn't fully assumed responsibility. Not that this made any difference to the Neeses, for no amount of remorse on Rachel's part could have brought their daughter back. As Skylar's aunt Carol testified:
"And I hope that you really and truly regret for what you did but it'd NEVER make us feel any better."
On flawless behavior Rachel will be released in ten years.
3
Both are currently serving their sentences at Lakin Correctional Center, about 150 miles southwest of Morgantown. Shelia Eddy was transferred there in February, Rachel in July 2014.
---
1The Supreme Court had ruled in June 2012 that sentencing a juvenile to life without mercy is unconstitutional. See Miller v. Alabama.
2According to the Dual Sovereignty Doctrine, two states (each considered a sovereign) may prosecute for the same crime.
3In West Virginia, you're given "good-time credits" (one for every "good" day) for good behavior. These credits may then be substracted from your total sentence.