The lonely stretch of road where Skylar was killed is located in Wayne Township, Pennsylvania. (There are several Wayne Townships across Pennsylvania; this one is in Greene County.) The spot where Skylar was murdered has since become a memorial. A bench with the words "In loving memory Skylar A. Neese 1996-2012" written on it was dedicated to her on June 23, 2013. Relatives, friends and others touched by Skylar have left flowers and other souvenirs on the spot where Skylar's body lay buried for six months. There was an unfortunate little episode in June 2013 whereby a local coroner refused to return the remains to the Neeses, citing the ongoing investigation, even though the FBI had already examined the body. After a bit of arguing with the authorities, Skylar's remains were finally returned to the Neeses, and then cremated.
The memorial bench, initially supplied by the Neeses, was refurbished by the Mountain Renegades Motorcycle club, but in September 2015 some scumbag had stolen it. Luckily it was found in the woods near the site a few weeks later.
The site (with the memorial clearly visible) is also viewable on Google Street View (photographed in October 2013). Simply go to Google Maps and type "Morris Run Road, Spraggs, Pennsylvania". Or, you can also type in the exact coordinates, which are 39.736806, -80.246387. (It seems that googling these coordinates directly takes you slightly off; instead, input the coordinates while already on Google Maps.) Bing Maps also has aerial images of the site.
The heavily forested area around the road has been used by local hunters for decades. As such, some teens have referred to the road as the "Gun Club Road". The road runs parallel to the Eddy Run Road (less than a mile west), which has lots of Eddy family land. This familiarity is probably why the site was chosen; familiar enough not to make Skylar suspicious but also familiar enough to make Shelia and Rachel comfortable working there in the middle of the night, knowing there'd be little chance of anyone catching them in the act. Morris Run, the creek where the girls washed themselves, runs right next to the road.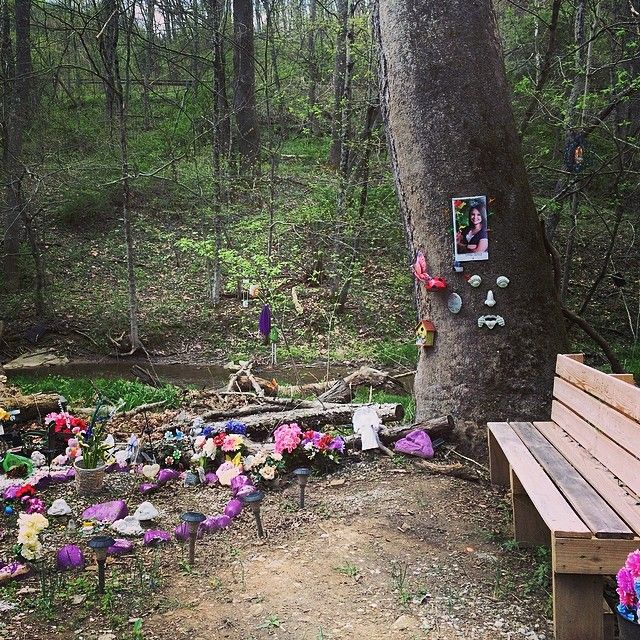 Right behind the site is a coal mine shaft. The shaft is part of a network of mine shafts connected to Blacksville No. 2 mine, owned by CONSOL Energy (formerly Consolidation Coal Company). The Blacksville mine operates on the Pittsburgh Coal Seam, one of the most important coal beds in the United States. The whole Wayne Township area is
littered with
underground mining activity. While investigating Skylar's disappearance, the investigators checked several of these shaft entrances for traces of Skylar.